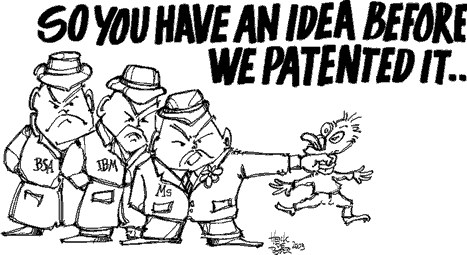 From a
C-Net interview with Horacio Gutierrez, IPR-lawyer at Microsoft,
its clear that patent insurance still is the game to curb competition. Even though Microsoft is paying ten times its patent income in patent charges, trials and fees, it manages to find profit in the larger loss and risk for all. The idea is to sell an insurance against patent risk called
patent indemnification
to partners. Selling patent indemnification covers patents and patent lobbying costs by creating new alliances and effectively kills independent actors. Its just what Bill Gates concluded in the early days of Microsoft:
"If people had understood how patents would be granted when most of today's ideas were invented and had taken out patents, the industry would be at a complete standstill today. ... The solution is patenting as much as we can. A future startup with no patents of its own will be forced to pay whatever price the giants choose to impose. That price might be high. Established companies have an interest in excluding future competitors."
(Quoted by Fred Warshofsky "The Patent Wars" of 1994)
In this new world, the business models would be:
Any other suggestions?